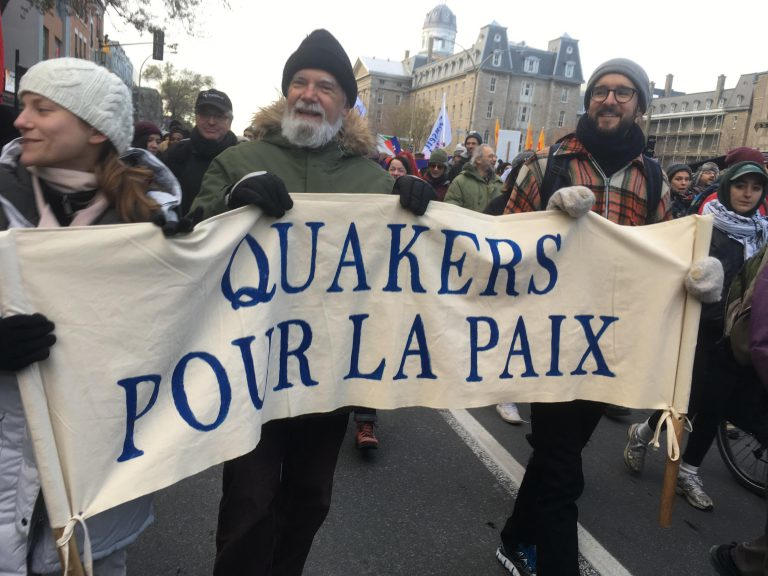 Zoom
In addition to our in-person meetings, we meet on Zoom every Sunday at 11 a.m. (Contact us for the link)
In person
We meet at 11 a.m. every Sunday.
Address
The Greene Centre, 1090 Greene, Westmount, QC, H3Z 1Z9
Near Lionel-Groulx and Atwater metros (Lionel-Groulx is slightly closer).
Free two-hour parking available in the streets surrounding the Greene Centre (for instance on Greene or rue Prospect).
Please note that the Greene Centre is a nut-free environment. We are working toward becoming a scent-reduced meeting.
We meet in the sunroom on the Greene Centre's main floor. All are welcome. Do stay after for tea, if you can.
Time
Every Sunday from 11:00 a.m. to noon. We suggest arriving a few minutes beforehand but we much prefer your company to your absence! We joyfully welcome children — if possible please do give us a few days notice.
If this will be your first time at a Quaker Meeting, you may want to read this information about what to expect.
Health precautions
For visitors:
If you're experiencing symptoms (flu, COVID, upset stomach), please visit us at a later time.
Our precautions:
Along with the Greene Centre, we can ensure excellent ventilation via open windows and two air purifiers. Please contact us to confirm this desire, and we can make it happen.
If anyone has raises a health concern at meeting we agree to ask everyone to wear masks at the rise of meeting before socializing.

However, for folks with difficulty hearing, we ask that people remove their mask when speaking.

We have extra masks on hand for anyone that needs one.
Anyone with comments or concerns about our policy is encouraged to contact us.
Please let us know if you require additional information or accommodations for accessibility.
Mobility
Worship is on the main floor.
Wheelchair access via a ramp in the front of the building
Wheelchair accessible washrooms
Wheelchair accessible parking in the rear of the building as well as a dedicated space out front (with sticker)
Other levels may not be accessible
Doors are not automatic

There is a bell at the rear door of the building.
In the front, an attendant is nearly always available to help.
Hearing
Our meeting has an auxiliary hearing aid system that we set up upon request.
A frequent attender is an ASL sign-language interpreter.
Scents and allergies
The Greene Centre is a nut-free environment.
We are working toward becoming a scent-reduced meeting.
We are conscious of allergens and dietary restrictions at potlucks.
Language
Our Sunday meeting happens primarily in English.

Translation is available.
With guests who speak only one language, we can and do translate for them.

We have several francophone members and attenders.

Most of the meeting is actively bilingual.
Nearly everyone is passively bilingual.
A few speak only French.
However, we frequently have visitors from the US or Britain, or participants who have just moved to Montreal.